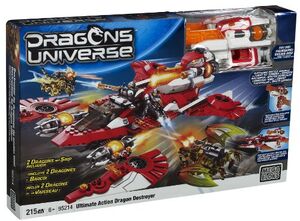 Dragons Universe is the series that came after the original Dragons series was discontinued by Mega Bloks. It had one sub-line titled the Rise Of The Predavors. Dragons Universe is where Dragons have high tech weapons (called Predavors) and fight humans (called the Alliance) who also have high tech weapons.
The series was a drastic departure from the style of the old Dragons line. No longer are there knights and Krystals but instead they were replaced with marines and power cores.
Sets
Large sets:
95213 Deluxe Dual-Blast Dragon Hunter
95214 Ultimate Action Dragon Destroyer
95208 Hyper Assault Dragon Slayer
95207 Rapid Fire Dragon Fighter
95217 Ultimate Dragon/ Flarestorm
Medium sets:
95205 Tailspike
95204 Torchwing
95203 Blackheart
95202 Clawripper
95135 Goldrage
95133 Icestorm
95132 Venomfang
95131 Flamedrake
95130 Starblaze
Small sets:
95123 Albatross
95124 Raven
95129 Colt
95134U Alliance Fig Pack
95134V Alliance Troop Pack
95102 Blind Pack-Series 1
95229 Falcon
95230 Stallion
95231 Eagle
95120 Hydrobolt
95121 Amberblast
95122 Terager
95226 Fleshtear
95227 Skullcrush
95228 Ironclaw
99626 Limited Edition Figure
Community content is available under
CC-BY-SA
unless otherwise noted.