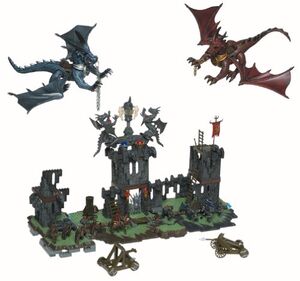 A construction toy line from
Mega Bloks
,
Dragons
started as a series simply called
Dragons
. It was followed by the series of
Krystal Wars
,
Iron Raiders
,
Elementals
,
Fire And Ice
,
Spell Casters
,
Metal Ages
,
Plasma Dragons
, and finally
Battlestorm Epic
before the series changed entirely into
Dragons Universe
. Dragons are also what both series are based off of.
The Dragons live in a special realm known as Dragon World. The Dragons also live in the Human World. They have the ability to use Krystals Of Power with the most powerful being the Aurathon Krystal used by the Dragon King, Thoron. There are many different types of Dragons, such as two-headed Dragons, Sea Dragons, Swamp Dragons, and Plasma Dragons.
Original Sets
Edit
Large sets:
9890 Warriors Fortress
9896 Dragon Tower
9897 Dragons Challenge (Non-canon)
Medium sets:
9881 Battle Gate
9886 Sorcerer's Lair
9871 Dragon Slayer
9882 Fire Mountain
9850 Dragon Battle
Small sets:
9862 War Chest (Valtheran & Non-canon)
9861 War Chest (Warfang & Non-canon)
9864 Valtheran ballista War Chest (Non-canon)
9863 Warfang catapult War Chest (Non-canon)